In the vast ocean of trading, where the tides are volatile and the waters often murky, having a winning strategy is the lighthouse guiding traders to the shore of success. We understand this principle deeply and thus have designed our signature course, The Ultimate Trading Course, to be that beacon of guidance.
Why The Ultimate Trading Course?
The Ultimate Trading Course is not just another course. It's a culmination of expert insights, hard-earned experience, and innovative techniques designed to give you a substantial edge in the crypto market.
Comprehensive Curriculum: Dive into over 30 chapters of unique, rarely-seen content designed to enhance your trading knowledge. From the foundations of trading to intricate strategies and risk management, we've got you covered.
Cutting-Edge Tools: Exclusive to this course, seize the opportunity to utilize the DETONATOR™ – the ultimate trading tool, free with a lifetime subscription. This indicator is designed for both day and long-term trading, ensuring you're always ahead of the curve.
Constant Support: We ensure you're never alone on your trading journey. With a dedicated Telegram channel, direct connections to elite analysts, and weekly webinars, you're always one step ahead.
Introducing the Ultimate Trading Course Premium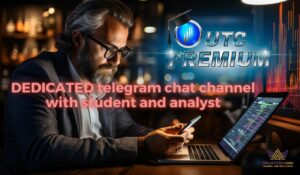 But we didn't stop there. Recognizing the diverse needs of our students, we're thrilled to unveil a brand-new training module, tailor-made for those who crave personalized attention and mentorship.
UTC Premium will be launched soon, offering a unique opportunity to be coached by the crème de la crème of trading analysts. This is not just any training; it's an intimate, focused, and bespoke learning journey where:
Personalized Focus: Your goals, challenges, and aspirations will be at the heart of the training. Each session is meticulously designed around you.
Direct Access to Experts: Imagine having a trading conundrum and being able to get it resolved by an industry stalwart. That's the promise of this one-on-one training.
Experiential Learning: This isn't about rote memorization of strategies. It's about understanding, adapting, and mastering them under the guidance of an expert, ensuring you're equipped to navigate any trading storm.
With The Ultimate Trading Course and the upcoming UTC PREMIUM, we're not just offering courses; we're offering transformational experiences. By equipping you with a winning strategy and giving you unparalleled access to experts, we're ensuring you're not just playing the trading game but mastering it.
So, whether you're just starting your journey or are looking to elevate your trading prowess, our courses offer the tools, strategies, and mentorship you need. Dive in, and let's chart the course to your trading success together. 🔥🚀